Content tagged with "Lobbying"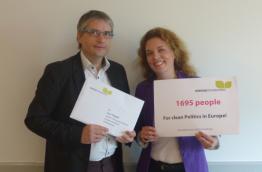 Am 25. August 2015 übergab Democracy International dem Europaabgeordneten Sven Giegold die Ergebnisse einer Online-Umfrage, die Democracy International zum Thema EU-Transparenz durchgeführt hatte. Dabei hatten 1695 Menschen aus ganz Europa ihre Vorschläge unterbreitet, wie...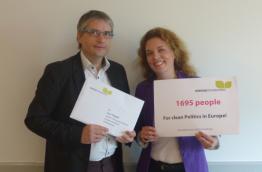 On 25 August 2015, Democracy International handed over to Sven Giegold, Member of the European Parliament, people's suggestions for how to end intransparent and unfair lobbying in the EU. 1695 Europeans had expressed their priorities in an online questionnaire that Democracy...
Website Info
Democracy International is a registered association in Germany
(eingetragener Verein e.V.).
Gürzenichstraße 21 a-c
50667 Cologne
Germany
Phone: +49 (0) 221 669 66 50
Fax: +49 (0) 221 669 665 99
Email: contact@democracy-international.org
Amtsgericht Köln
VR-Nr. 17139
Bank
Democracy International e.V.
IBAN: DE 58370205000001515101
BIC: BFSWDE33XXX
Bank für Sozialwirtschaft
Konto: 1515101
BLZ: 37020500