Content tagged with "Interview"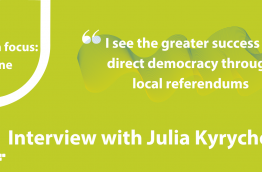 In Country in focus, Democracy International takes a closer look at advances in modern direct democracy and citizen participation worldwide. After a break of several years, we are welcoming this section back! This month, the spotlight is on Ukraine. In the interview,...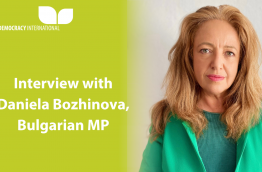 Daniela Bozhinova, a Board Member of Democracy International, is a democracy researcher, activist, writer and politician. She is a co-founder of the Green Movement party in Bulgaria and has served until recently as an elected city councillor in Burgas, Bulgaria. Currently, she...
Website Info
Democracy International is a registered association in Germany
(eingetragener Verein e.V.).
Gürzenichstraße 21 a-c
50667 Cologne
Germany
Phone: +49 (0) 221 669 66 50
Fax: +49 (0) 221 669 665 99
Email: contact@democracy-international.org
Amtsgericht Köln
VR-Nr. 17139
Bank
Democracy International e.V.
IBAN: DE 58370205000001515101
BIC: BFSWDE33XXX
Bank für Sozialwirtschaft
Konto: 1515101
BLZ: 37020500