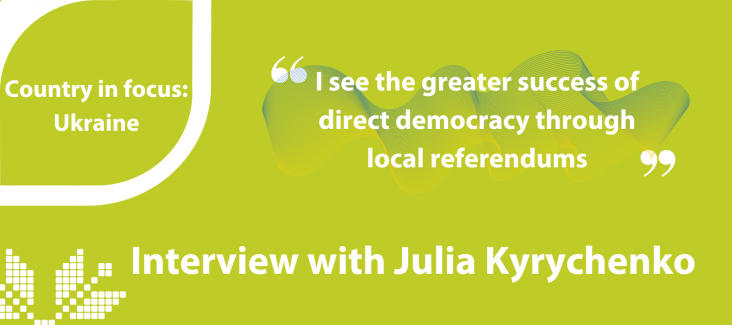 Future elections and local direct democracy in Ukraine: interview with Julia Kyrychenko
In Country in focus, Democracy International takes a closer look at advances in modern direct democracy and citizen participation worldwide. After a break of several years, we are welcoming this section back! This month, the spotlight is on Ukraine.
In the interview, Julia Kyrychenko talked about local and national direct democracy in Ukraine, elections in the post-war setup and the role of direct democracy in the Ukrainian system.  Julia is a Board Member of the Centre of Policy and Legal Reform, and Member of the Board, expert, manager of the group on the constitutional reform of the Reanimation Package of Reforms. She specialises in issues of electoral and referenda legislation.
Interview by Anna Proskurina