Content tagged with "European Socialists"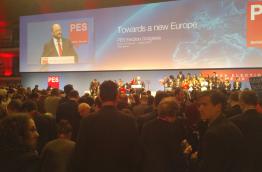 The President of the Party of European Socialists (PES) Hannes Swoboda had invited Sophie von Hatzfeldt and Daniel Lentfer, both working for Democracy International's campaign team "Democratic Europe Now", to join the party's Congress in Rome. They accepted the invitation and...
Website Info
Democracy International is a registered association in Germany
(eingetragener Verein e.V.).
Gürzenichstraße 21 a-c
50667 Cologne
Germany
Phone: +49 (0) 221 669 66 50
Fax: +49 (0) 221 669 665 99
Email: contact@democracy-international.org
Amtsgericht Köln
VR-Nr. 17139
Bank
Democracy International e.V.
IBAN: DE 58370205000001515101
BIC: BFSWDE33XXX
Bank für Sozialwirtschaft
Konto: 1515101
BLZ: 37020500