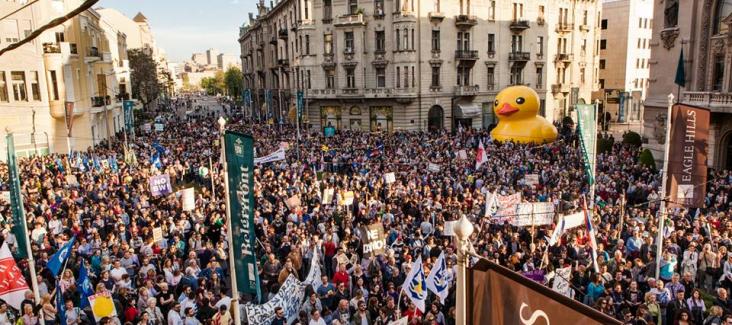 Murky waters – Participation, transparency and real estate on the Belgrade Waterfront
The Serbian initiative "Don't Let Belgrade D(r)own" (Serbian: Ne Da(vi)mo Beograd (NDB)) is changing the way Serbians think about transparency and the role of citizens in urban development projects. The initiative was triggered by the controversial 2014 "Belgrade Waterfront", the biggest development project in Serbia's history, which was announced to be financed by an Abu Dhabi-based billionaire. The Waterfront project aims to reconstruct Belgrade's cityscape into luxury apartments, skyscrapers and five-star hotels.
Strong criticism against how the project was being planned arose when details of the multi-billion-dollar project were kept secret from the public and an unusual nighttime demolition took place at the site of the proposed project. Ever since, a growing number of Belgradians have been demanding that citizens be consulted and heard on major urban development projects. Crowds of up 20,000 have taken the street with the famous duck logo to challenge the process of how citizens are left out in major investment and development schemes.
Democracy International interviewed Dobrica Veselinovic, organizer of Don't Let Belgrade D(r)own (NDB).