Upcoming Events
Monday, September 30, 2019 - 08:00
to
Wednesday, October 2, 2019 - 16:00
Ahead of the 2019 Global Forum on Modern Direct Democracy, which will take place from 2 - 5 October in Taichung, Taiwan we are organising an optional pre-forum briefing tour for interested participants of the Global Forum.   When?  30 September - 2 October 2019 Where? Taipei...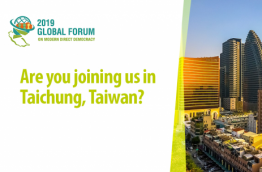 Wednesday, October 2, 2019 - 17:00
to
Saturday, October 5, 2019 - 14:00
The Global Forum on Modern Direct Democracy is the largest gathering devoted to direct democracy worldwide. It favours a multidisciplinary approach, welcoming participants from academic, political and civil society perspectives. It is attended by activists, organisations and...
Website Info
Democracy International is a registered association in Germany
(eingetragener Verein e.V.).
Gürzenichstraße 21 a-c
50667 Cologne
Germany
Phone: +49 (0) 221 669 66 50
Fax: +49 (0) 221 669 665 99
Email: contact@democracy-international.org
Amtsgericht Köln
VR-Nr. 17139
Bank
Democracy International e.V.
IBAN: DE 58370205000001515101
BIC: BFSWDE33XXX
Bank für Sozialwirtschaft
Konto: 1515101
BLZ: 37020500