Content tagged with "Romania"
Georgeta Ionescu, a long-time environmentalist and political activist, fights against fracking, a new technology to win energy. Ms Inonescu is one of the founding members of the democracy group in Romania founded in July this year. We had the chance to speak to Georgeta Inonescu...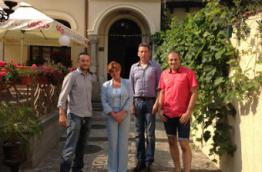 Building democratic societies and introducing effective citizens' participation means a mammoth task to many countries of Eastern Europe. However, there are democratic approaches worthwhile pursuing, such as the work of the Slovakian democracy group...
Website Info
Democracy International is a registered association in Germany
(eingetragener Verein e.V.).
Gürzenichstraße 21 a-c
50667 Cologne
Germany
Phone: +49 (0) 221 669 66 50
Fax: +49 (0) 221 669 665 99
Email: contact@democracy-international.org
Amtsgericht Köln
VR-Nr. 17139
Bank
Democracy International e.V.
IBAN: DE 58370205000001515101
BIC: BFSWDE33XXX
Bank für Sozialwirtschaft
Konto: 1515101
BLZ: 37020500