Content tagged with "Malta"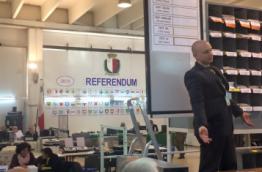 With an extremely close result, Maltese hunters have won the referendum to ban birdhunting in springtime. On Saturday, 11 2014, the Mediterrean island nation of 450,000 people faced a dramatic voting day. For the very first time since gaining independence from Britain in 1964,...
In the small island-state of Malta, member state of the European Union since 2005, shooting birds in spring is legal – and highly contested by Malta's 400.000 inhabitants. Right now a coalition of environmentalists collected enough signatures to hold a referendum on spring...
Website Info
Democracy International is a registered association in Germany
(eingetragener Verein e.V.).
Gürzenichstraße 21 a-c
50667 Cologne
Germany
Phone: +49 (0) 221 669 66 50
Fax: +49 (0) 221 669 665 99
Email: contact@democracy-international.org
Amtsgericht Köln
VR-Nr. 17139
Bank
Democracy International e.V.
IBAN: DE 58370205000001515101
BIC: BFSWDE33XXX
Bank für Sozialwirtschaft
Konto: 1515101
BLZ: 37020500