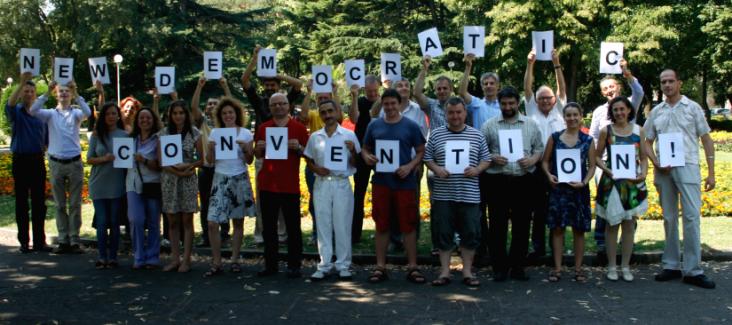 Gathered from 13 - 15 July in Burgas, Bulgaria, we learned about the (often shocking) state of democracy in Bulgaria, Romania, Hungary, Austria and Greece. Also, we discussed actions for a new, democratic Convention of the EU. We did all this while temperatures outdoors reached almost 40 degrees Celsius. Although Burgas is beautifully located at the Black Sea, we did not go for a swim in the sea.
Democracy: the most important issue of our time
Our summer academy started on Friday evening with a speech by Gerald Häfner, MEP and President of Democracy International. Häfner demonstrated that democracy is the most important issue of our time: A democracy that includes citizens through initiatives and referenda is the means to solve conflicts, to gain citizens' acceptance of contested questions and to bring about citizens' identification with the overall whole. Häfner referred to the financial crisis in Greece as one example. If the budgetary policies in Greece were backed by a referendum, social protests and riots would take place less and the country would be more stable.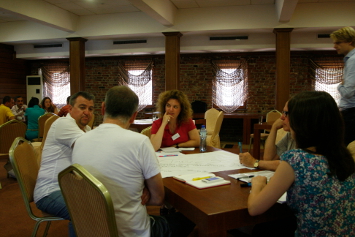 The workshop session on Saturday afternoon
European countries towards less democracy 
Saturday and Sunday were divided into two major blocks: The country briefings shockingly showed how fragile European democracies currently are. Ciprian Dinita, a citizen of Bucharest, for example explained to us the developments in Romania that had led to the suspension of President Basescu and the scheduling of a referendum to impeach the President through bypassing the rules of law. All this had happened just a few days before our summer academy took place. It became clear to us that we do need more democracy in Europe and the Member States. The presentations by Csaba Madarasz on Hungary and by Maria Kallithraka on Greece stressed the same, albeit of course in their very country-specific contexts (see links to presentations on Romania and Hungary below).