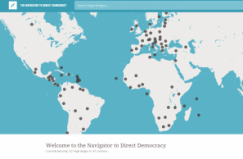 the Direct Democracy Navigator to learn about the instruments of direct democracy in Ecuador
 
"The situation in Poland is much more complex"
Interview with Anna Rytel-Warzocha on the recent political developments in Poland, the question whether democracy is threatened and on the strength of Polish civil society to protest against the measures of the new government.
Anna Rytel-Warzocha is a lawyer and holds a PhD in Constitutional Law. She works at the Faculty of Law and Administration at the University of Gdansk, North of Poland, where she teaches constitutional law and conducts research on participatory democracy.