Content tagged with "United Nations"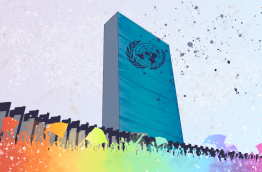 When it comes to direct democracy, we often look at the local level. The reasoning being that it is simply more feasible for citizens to take influence when it comes to well-defined, nearby issues. But democratic participation matters on all levels, even where it might be harder...
From 30 November to 11 December 2015, leaders of all UN member states are convening in Paris, France, to negotiate a legally binding and universal agreement on climate protection. Following more than 20 years of negotiations, the overarching goal of the United Nations Climate...
Website Info
Democracy International is a registered association in Germany
(eingetragener Verein e.V.).
Gürzenichstraße 21 a-c
50667 Cologne
Germany
Phone: +49 (0) 221 669 66 50
Fax: +49 (0) 221 669 665 99
Email: contact@democracy-international.org
Amtsgericht Köln
VR-Nr. 17139
Bank
Democracy International e.V.
IBAN: DE 58370205000001515101
BIC: BFSWDE33XXX
Bank für Sozialwirtschaft
Konto: 1515101
BLZ: 37020500